These 4 super easy and effective ways to hydrate your cracked heels will change your looks forever. Use one of your own choice and look irresistible!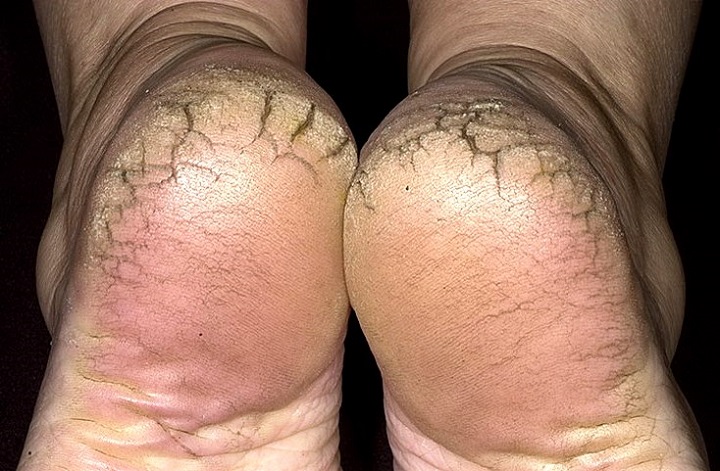 You're tired of that horrible look of your feet, those dry, cracked heels? Well, you've got every right to be. Unfortunately, the skin of our heels in naturally pretty dry and if you don't take care of them, it may crack. And it usually does. No matter what you do, how much money you spend on pedicure after a while, it cracks again. That's why you need to try these 4 effective ways to hydrate your cracked heels. They all contain super healthy ingredients that cannot harm your feet in any way; in fact, they can only make them look and feel smooth.
4 effective ways to hydrate your cracked heels
Needed ingredients:
1 remedy – 8 liters of water and 1 tablespoon of vinegar
second remedy – 8 liters of warm water and 3 tablespoons of lemon juice
remedy n.3 – 8 liters of lukewarm water and 5 drops of camellia sinesis oil
last suggested remedy – 4 liters of water and a half tablespoon of baking soda
Method of preparation:
The method of preparation is the same for all 4 suggested remedies. Once or twice a week you should soak your feet in one of the suggested remedies of your own choice, for 45 minutes. Make sure that the water you use for the mixtures is at least warm. After the 45 minutes, wash your feet, again with warm water only, dry them and apply your favorite hydrating cream. If you don't have a favorite one, then here are some suggestions, which are especially good for hydrating the heels:
olive oil
coconut oil
cooking oil
After you've applied your favorite cream or one of these oils, don't forget to immediately put cotton socks. Only cotton socks allow your skin to breathe, don't forget that. In addition, if you know you're gonna stay at home for a while, you can wrap your heels in a plastic bag so that the hydrating mean you've used can do its work.
You should do this at least once a week, but of course, if you have spare time, you're free to do it 2-3 times a week.