Vegan meals – yummy, green, healthy? Sounds exquisite, right? Well, we've mentioned in our previous post about vegans that there are actually lovely meals which can be made that include no meat and no dairy. In addition, we'll give you a tip if you're interested in including some meat in these meals and where it could be as delicious as without it. Certainly, those meals won't be vegan anymore, but… It's all up to you!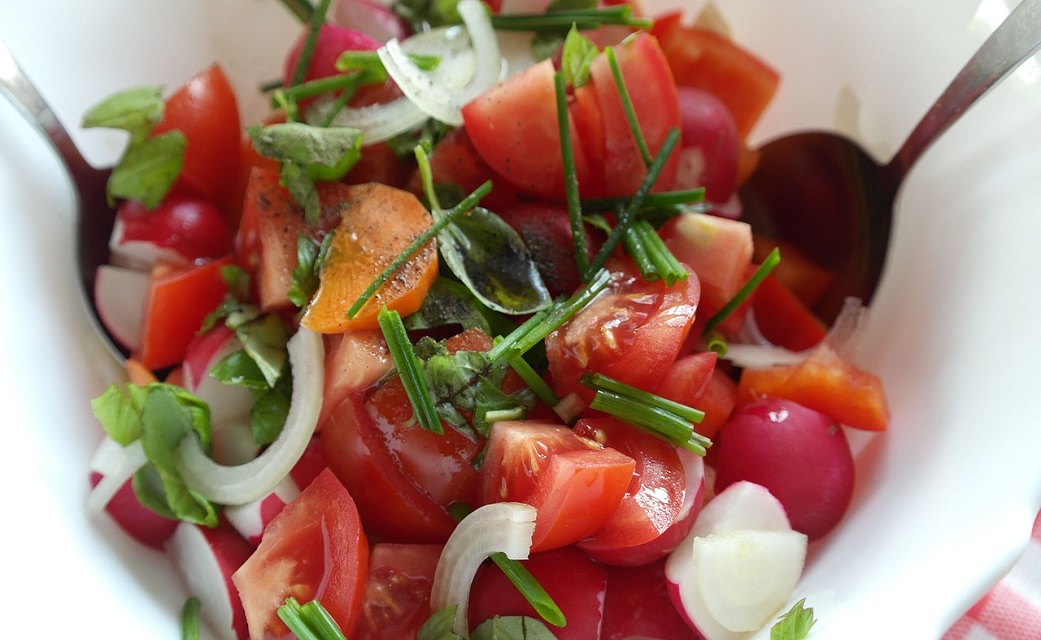 Meal n. 1
Mangoatmeal
2/3 cup of oatmeal
1 mango
1 tablespoon of grind walnuts
– First, prepare the oatmeal according to your preference: either with water or almond, rice or soy milk. At the same time, cut the mango in small pieces. When it cools down a bit, put the mango and the walnuts in it and mix it.
Meal n. 2
Greekish salad
2 tomatoes
1 cucumber
1 onion
olives
salt
pepper
oregano
olive oil
balsamic vinegar
– Wash the tomatoes and the cucumber, cut them in small pieces and put them in a bowl. Mix them with the olives, salt, the pepper, the olive oil and the balsamic vinegar. Cut the onion carefully into rings, and put them on top. Now add the oregano.
Tip: Of course, if you want to, you can add cheese cut in cubes before you put the onion and the oregano.
Meal n. 3
Stuffed Vegan Peppers
2 green peppers
1 handful of rice
1 carrot
1 onion
1 tomato
olive oil
dried vegetables
pepper
salt
dried garlic
– Cut the carrot and the onion and cook them on low heat with water and a little bit of olive oil. A few minutes later, add the rise and the spices and cook for another 5-10 minutes. Meanwhile, cut the top off the green peppers carefully in order to make a hole and remove the seeds. Now stuff the peppers with the mixture and close them with a piece of tomato. Bake on 200 C for 2 hours.
Tip: While you could eat it like this, you could always put ground beef if you want and cook it together with the carrot and the onion.
So far, great vegan meals, right?
Meal n.4
Wrapped Veggies
Lettuce
Tomato
Celery
Kidney beans, steamed
Beans, steamed
Olive oil
Lemon juice
Salt
Pepper
– Naturally, you have to wash the tomato and cut it into little pieces, as well as the celery. In the meantime, steam the kidney beans and the beans separately. Mix all these in a bowl and wrap them up in the lettuce leaves. What a wrap, right?
Tip: For instance, if you're a meat lover, you could use sliced chicken or turkey breast instead of the beans in this recipe. Also, you could top with tzatziki sauce if you want to use dressing.
Meal n.5
Whole-grain Burger
2 whole-grain muffins or 2 slices of whole-grain bread
soy burgers
onion
lettuce
tomato
1 tablespoon mustard
– Cut the muffins or the bread in half and put one leave of lettuce. Slice the tomato in rings, and put the mustard on it. Now, put the soy burgers and cover them with another lettuce leaf.
We promised to you that you'll have nice meals in this menu. Therefore, guys, we hope you'll enjoy these vegan meals as much as we enjoyed preparing them for you.